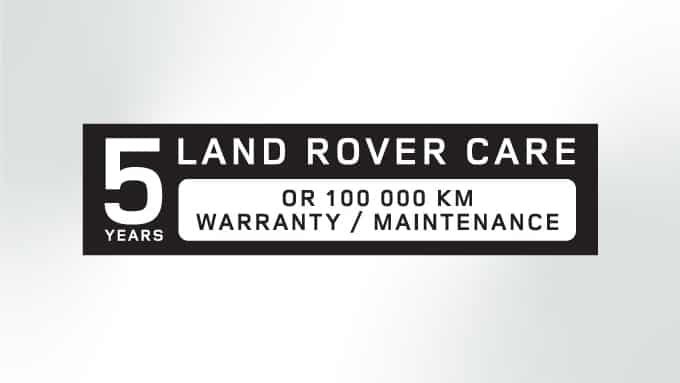 5 Year Care Plan
Land Rover Care
Land Rover Care gives you peace of mind with a 100 000km warranty and servicing within in 5 year period, whichever comes first. It is very important that routine servicing is carried out throughout the life of your vehicle at the distance or monthly intervals shown in the Service Interval Plan.
It is important to entrust this work to an Authorised Land Rover Retailer in order to maintain your Warranty, Care Plan and the value of your vehicle. This is a direct benefit from this extensive investment in specialised training and equipment.
Please note that the work content of each routine service will vary according to the distance covered and age of your vehicle.
The 5 Year 100 000km (whichever occurs first) Care Plan, consists of three components:
- Warranty (5 years 100 000km)
- Service (5 years 100 000km)
- Maintenance. (5 Years 100 000km – refer to Service and Care Plan Portfolio)
The Land Rover Care Plan absorbs all maintenance and service costs, with the exception of between-service top-up fluids, fuel, cracked or broken glass, and tyres. Care Plan is registered with the new vehicle and as such is transferable to the new owner should the car be sold before the Care Plan has expired, given added resale value.
Should any defects or failure arise, occur or become apparent, the Customer shall take such reasonable action as necessary to avoid or minimise damage to the vehicle.
Whilst the vehicle is covered under Care Plan – the customer will have the benefit of:
- 24-hour roadside assistance through Europe Assist.
- The choice of having your vehicle serviced at any of the Land Rover Dealerships throughout South Africa, Namibia or Botswana.