ADVANCE PAYMENT PLAN
Add to the pleasure of driving your new Land Rover with a low cost of finance. Make one large up-front payment, with minimal monthly instalments and a choice of 3 options at the end of the agreement.
HOW IT WORKS
Based on a 12-month term, you pay 50% of the Retail Price upfront and 50% at the end of the term. The 50% balloon payment and other financed options and extras are financed at a beneficial interest rate resulting in a low monthly instalment over the term. At the end of the agreement, you choose from one of the following options:

1. Renew – trade in the vehicle on another vehicle subject to settlement of your existing finance agreement; new finance agreements are subject to your credit status at the time.
2. Retain – to keep your Land Rover, you only need to settle the ballon or refinance the *balloon (*subject to your agreement being paid up to date).
BENEFITS
- Ideal if you are planning to pay for your Land Rover outright. By deferring part of the initial outlay until the end of the agreement term there is less to pay today
- Low monthly payments
- Low-interest rates on the amount financed
- With shorter terms you can be driving a new Land Rover more often, meaning your servicing and maintenance costs may be reduced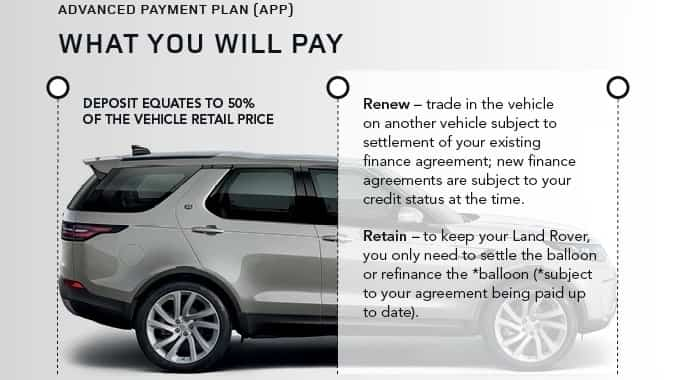 WHAT ELSE DO I NEED TO KNOW?
- Ideal if:
- You want the benefits that come with being a Land Rover Finance Customer
- You want more spending power – maybe for a newer or higher specification model
- A proportion of the credit is deferred to the end of the agreement and you should prepare for this if you want title of the vehicle to be transferred into your name
- Newer model means lower maintenance costs